Engagement And Wedding Photoshoot Locations
IN LOS ANGELES
After getting engaged, you'll experience a flood of emotions. Once the dust settles, planning engagement photos is an excellent way to celebrate the good news publicly.
Among the excitement of wedding planning, you may have no idea how to plan photo shoots or know the best Los Angeles engagement locations. Luckily Los Angeles offers many sites that can provide a great backdrop for engagement photography.
Selecting the perfect location for your wedding photos can feel like a make-or-break decision. To help you find the ideal spot, we've assembled a list of our favorite engagement and wedding locations in Los Angeles that we suggest.
Best Wedding Photoshoot Locations In Los Angeles
Los Angeles county is massive and offers several great backdrops to get amazing photos. From Downtown LA to the west coast seashores, these best locations for wedding photos will help you find the perfect spot for your big shoot.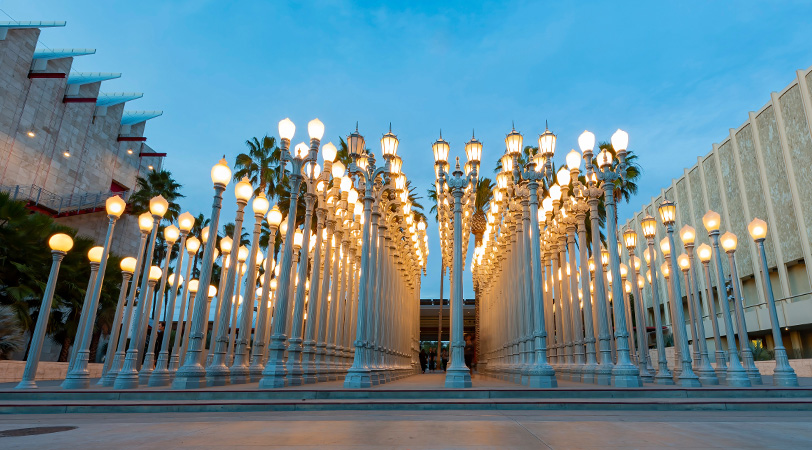 The Los Angeles County Museum of Art
Los Angeles, CA
ADDRESS: 5905 Wilshire Blvd, Los Angeles, CA 90036
TELEPHONE: (323) 857-6000
The LACMA is a public art institute located on Museum Row in the Miracle Mile neighborhood. Since its split from the Los Angeles Museum of History, Science, and Art, the LACMA has become one of the foremost art institutes in the country.
With various stunning exhibits, including a lamp post collection that offers amazing light, this location is an ideal spot for those seeking artsy engagement photos. Plus, the museum sits next to the La Brea tar pits, which offer an intriguing sight for eye-catching engagement pictures.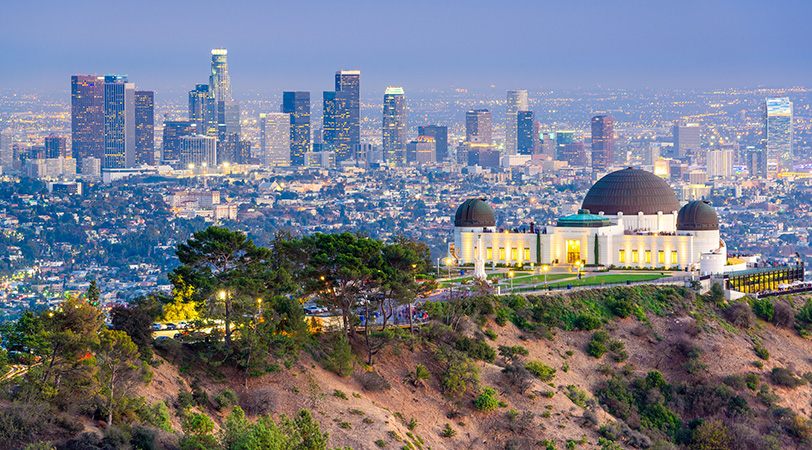 Griffith Parks Observatory
Los Angeles, CA
ADDRESS: 2800 E Observatory Ave Los Angeles, CA 90027
TELEPHONE: (213) 473-0800
One of the most famous sites near Downtown Los Angeles, the Griffith Parks Observatory, famously appears in many movies and TV shows. The Observatory also sits next to a beautiful hike that overlooks all of Los Angeles county.
While a popular location for engagement pictures, visit the Griffith Parks Observatory in the early morning engagement session. Getting a jump start on your session will also help avoid some of the crowds visiting the Observatory daily.
Consider choosing the Griffith Parks Observatory for your engagement and wedding photography needs.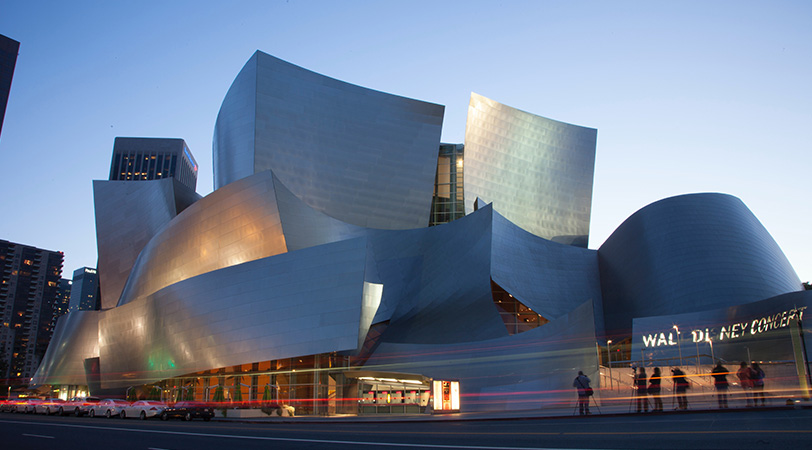 Los Angeles, CA
ADDRESS: 111 S Grand Ave, Los Angeles, CA 90012
TELEPHONE: (213) 972-7334
Another famous Los Angeles fixture, this stunning concert hall offers beautiful architecture for your engagement photography. The street parking nearby makes bringing a large wedding party to the venue easy.
As one of the less popular wedding photography locations, this hidden gem offers elegance and a scale beyond many locations on this list. The incredible geometric architecture offers a futuristic aesthetic that could be perfect for your wedding pictures.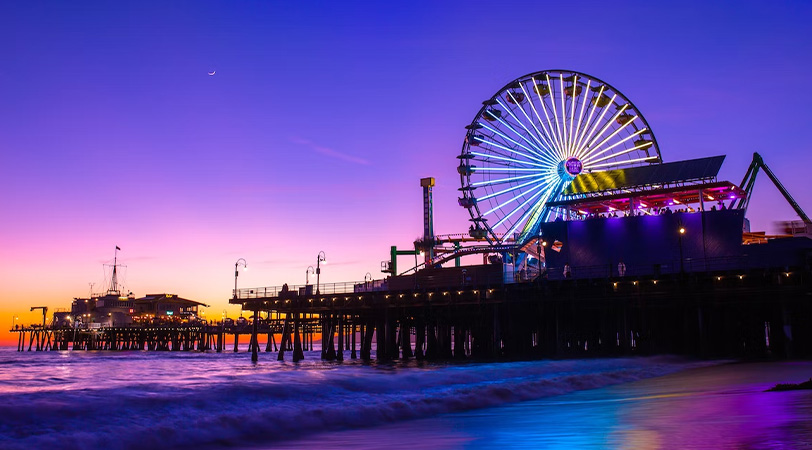 Santa Monica and the Santa Monica Pier
Santa Monica, CA
ADDRESS: 200 Santa Monica Pier, Santa Monica, CA 90401
TELEPHONE: (310) 458-8900
Sometimes confused with San Marino, Santa Monica is one of the most famous parts of Los Angeles. Santa Monica offers something for everyone with its world-famous pier, beachfront properties, and excellent restaurant and shopping scene.
If you're looking for a diverse locale for your engagement photography, try venturing to this part of Los Angeles. With the ability to shoot on the beach and travel to the iconic pier, there are very few limitations on how this location can serve you.
Take a ride on the pier roller coaster for a fun (and probably hilarious) engagement photos.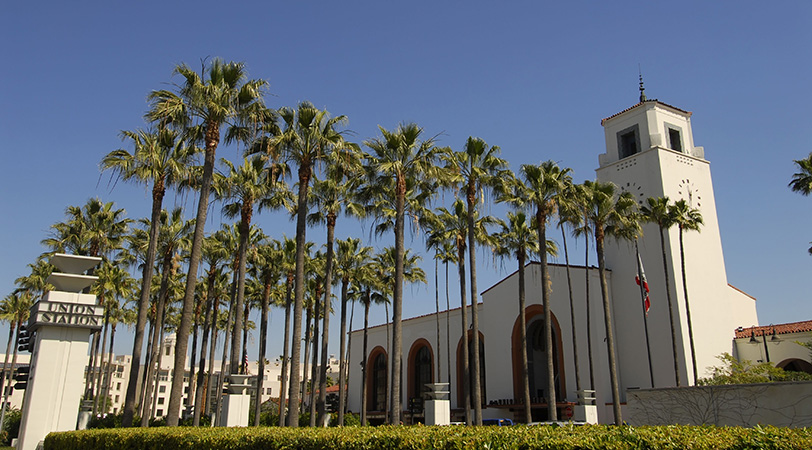 Union Station in Downtown Los Angeles
Los Angeles, CA
ADDRESS: 800 N Alameda St, Los Angeles, CA 90012
Old Hollywood, vintage flare, and elegant aesthetics define the architecture at Union Station. With an old-timey feel, this everlasting train station provides the ideal backdrop for couples seeking charm and nostalgia.
Capitalize on the locale by theming your photos as the last stop on your single journey. Try posing outside and indoors to vary the aesthetic.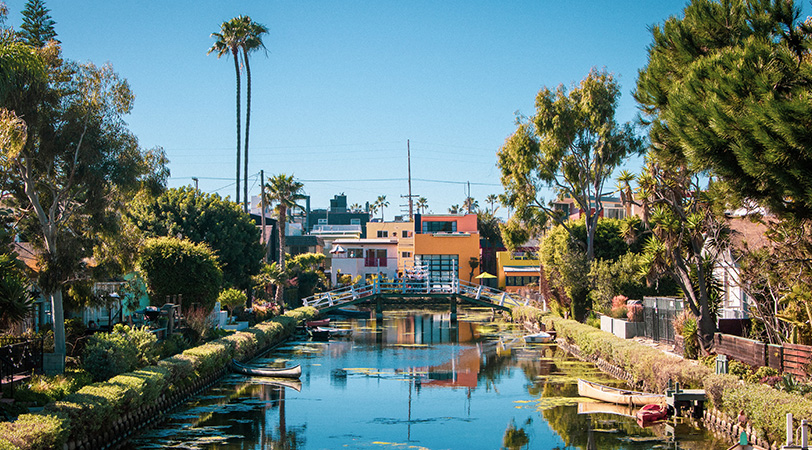 Venice, CA
ADDRESS: 2480 Pacific Ave, Venice, CA 90291
The Venice Beach canals are a picturesque and unique location. The canals offer a charming and romantic ambiance with stunning views of the water and surrounding architecture.
The canals are also relatively quiet and secluded, making it an ideal spot to avoid crowds and distractions. The area is easily accessible, with plenty of parking spaces nearby, and offers a range of opportunities for creative shots.
If you want to capture intimate moments by the water or showcase your love amidst the vibrant surroundings, Venice Beach canals offer the perfect setting for a photoshoot.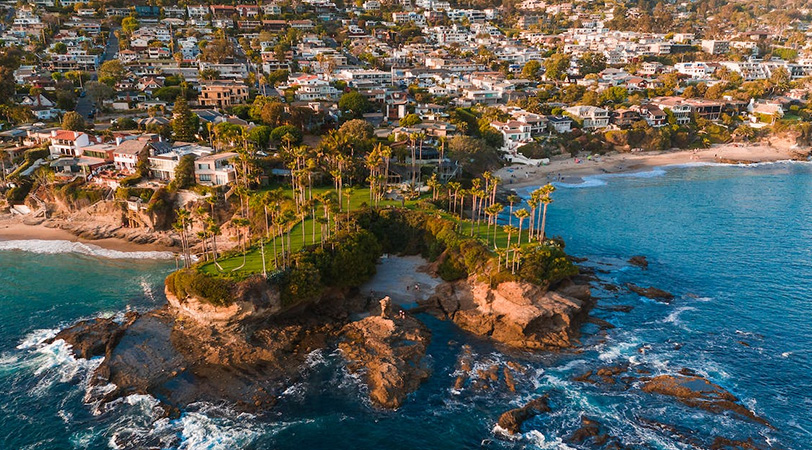 Laguna Beach, CA
ADDRESS: Multiple locations on the coastline
California's famous beaches provide the ideal setting for a stunning photoshoot. Luckily, Los Angeles has some of the state's best oceanfront areas to gather wedding portraits.
Venture to Laguna Beach for beach bliss and under-the-sea fairytale aesthetics.
With gorgeous rock structures, golden sands, and a beautiful view of the Pacific, there is no better spot for beach bum couples.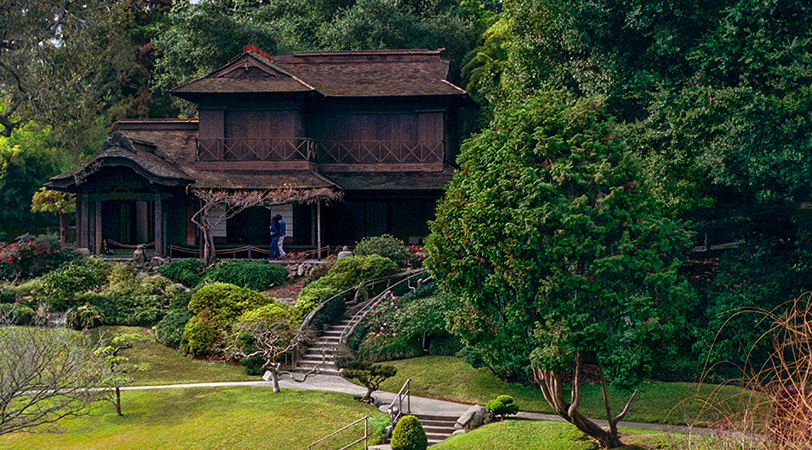 San Marino, CA
ADDRESS: 1151 Oxford Road, San Marino, CA 91108
TELEPHONE: (626) 405-2100
Huntington Gardens provides a veritable natural paradise to capture photos of you and your future spouse.
With areas dedicated to wedding and engagement photography, there's no better garden in Los Angeles for the perfect shoot.
Make sure to take pictures in the stunning rose garden. With over 1400 types of roses, this romantic oasis has love in the air.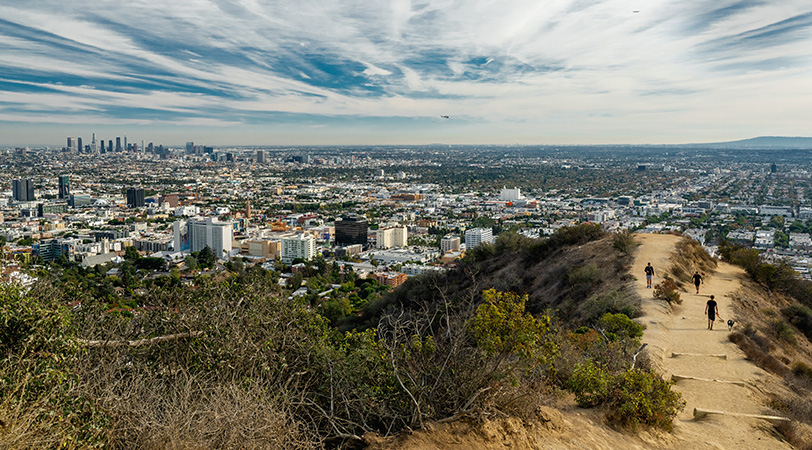 Los Angeles, CA
ADDRESS: 2000 N Fuller Ave, Los Angeles, CA 90046
TELEPHONE: (323) 666-5046
Runyon Canyon is one of the best-known hikes in Los Angeles. The stunning trail leads to a gorgeous Pacific view that offers a magical backdrop for any new couple.
If you and your spouse are outdoors types, consider Runyon Canyon for your engagement session. Offering an ideal juncture between mountain and oceanic beauty, this hike is one you'll never forget.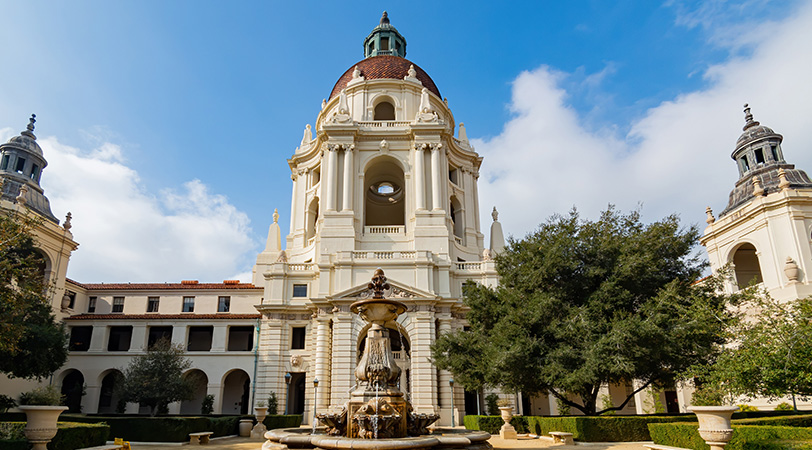 Pasadena, CA
ADDRESS: 100 N Garfield Ave, Pasadena, CA 91101
TELEPHONE: (626) 744-4000
While it might not be the first locale that comes to mind, Pasadena City Hall is a stunning structure with unique architecture. With a castle-like aesthetic, it's no wonder that this public building is among the most popular locations for wedding pictures.
Consider Pasadena City Hall if you're throwing a regal or fairytale wedding. It's the perfect place to fool guests into thinking you've already built your dream palace.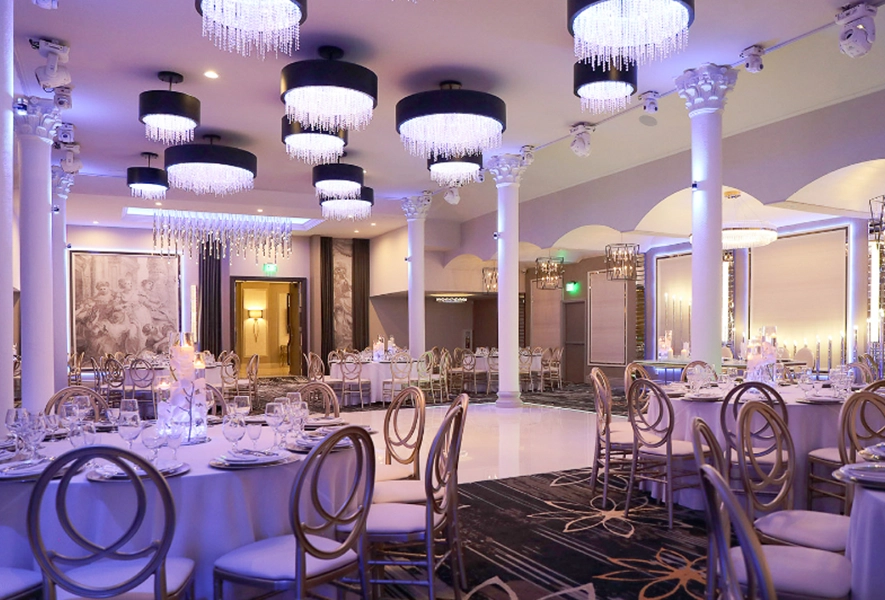 Book Etage Event Venue For Your Wedding
Now that your engagement pictures are in the can, it's time to start thinking about a great location to tie the knot. Etage Event Venue provides the perfect backdrop for your wedding celebration. With an upscale ballroom and stunning foyer, our venue is ideal for celebrating your new life and partnership.
Call us at (818) 722-8490 or check the price and availability and host your special day at our stunning wedding venue.
Notable Amenities Included In Venue Rental