An Exquisite Dining Experience In Los Angeles
Étage is known for more than our glamorous banquet hall, affordable pricing, and stunning décor. We are also known for our delicious and delectable dining services in Los Angeles. At Étage, we create a diverse menu fully accommodating to your heritage and preferences.
Our in-house and experienced chefs work with you to create a menu customizable to you that fits perfectly with your events theme. We use the finest and freshest ingredients, serving you cuisine filled with flavor and care. We also provide a variety of dining style options that is based on your choosing. Let us coordinate a meal that you and your guests will never forget!
No matter the size of your party or style of your event, we will offer a dining option that works the best for you. We ensure that all your needs and expectations will be met with our incredible chefs and staff.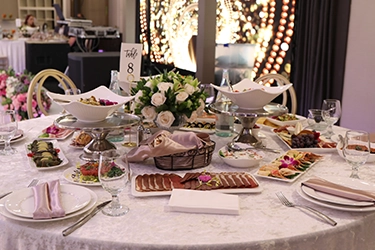 Family-style event catering gives your guests the opportunity to serve themselves from dishes that are placed on the table. With this dining option you have the opportunity to choose which specialty dishes you want placed on the table. Just like in the comfort of your own home, you can try different foods with the portions of your choice at the comfort of your own seat.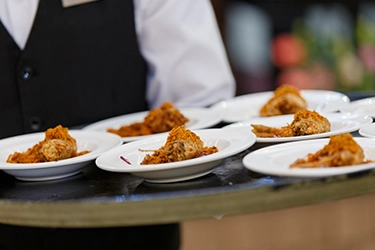 Allow guests to pre-select their meals of the night with our table service option. Create an elegant dining experience for your guests with their meals being served to each guest individually by our professional wait staff. Allow your guests to customize a menu of the dishes that they desire.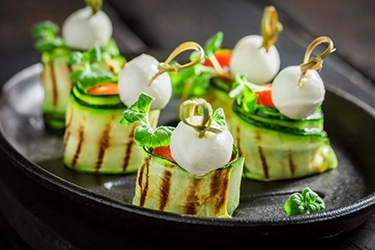 Create and intimate and opulent atmosphere with your cocktail hour service, typically occurring before your event begins. During this time, assorted small plates and beverages will be offered by our wait staff, keeping guests satisfied and elated for the night to come. Choose plates of your choosing that fits the theme and style of your event the best.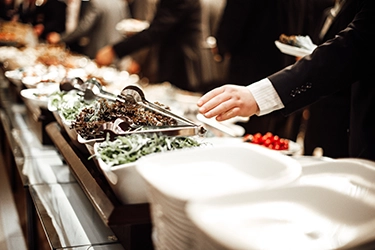 Keep the ambiance causal with our buffet style dining, allowing guests to self-serve their desired dishes from a display of various entrees and sides. Guests can decide their own portions, options, and when they want to eat with this dining style, allowing them to go at their own pace. It also encourages guests to mingle and interact with others rather than remaining at their select table for the duration of the night.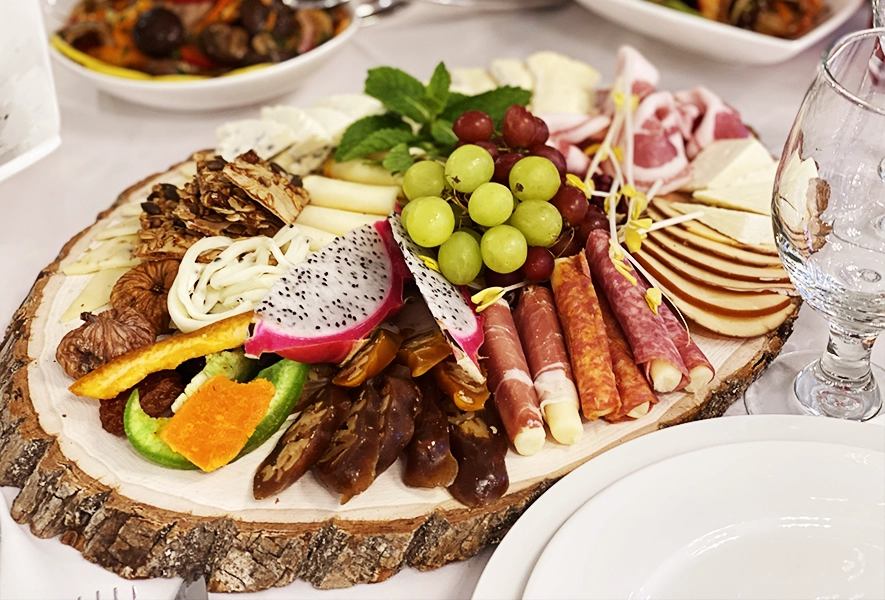 Want to taste the creations of our chefs before booking our food catering in Los Angeles? Come in for our food tasting! We are able to prepare the food of your choosing for your event to ensure that you are getting what you want. Our experienced chefs put their all into the delicious meals they create using top-tier ingredients.
In-House Dining Services For Weddings In Los Angeles
Your wedding catering should be as memorable and special as your wedding day. Allow us to create a custom and dazzling menu that is authentic to your culture and heritage. No matter which dining style you choose at our wedding venue, we ensure that your cuisine will be made with our freshest ingredients and savory flavors. Let Étage's wedding catering in Los Angeles work with you to design the perfect menu for your special day, making your first meal as a married couple unforgettable.
Catering For Private Events
Enjoy our delicious event catering for your next event wherever you choose! Whether you need small party catering service or a large one, let Étage cater to you and your guests with our various cuisine options and diverse menu. We guarantee to leave you and your guests satisfied!