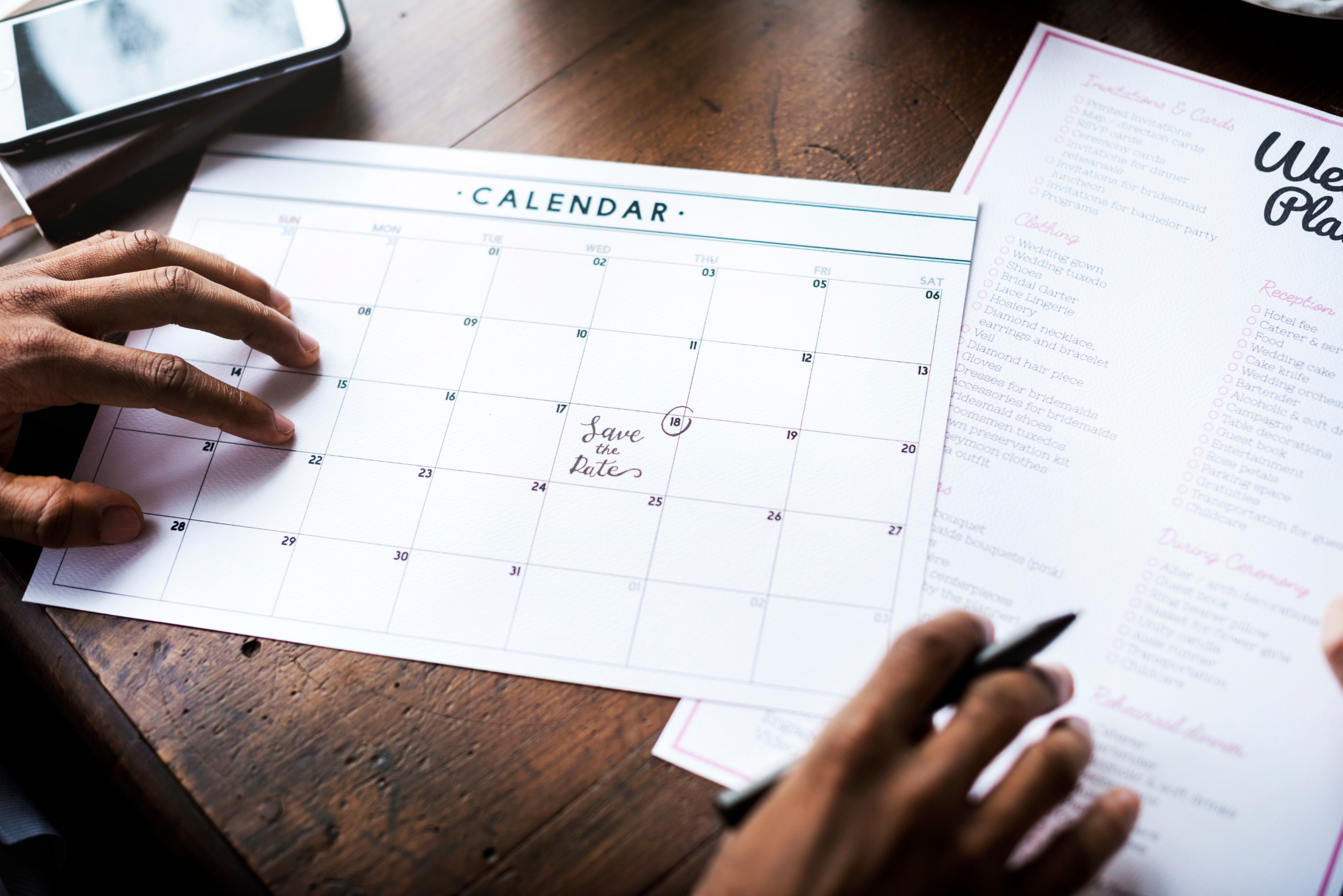 Planning your big day can be an exciting, yet intimidating experience. No particular couple wants to feel stressed or rushed when preparing for their wedding. But with proper wedding planning organization techniques in place and a few simple strategies, couples will have more time to savor the joy that comes from this momentous occasion!
In this article we'll cover various tactics on how you can stay organized throughout the entire planning process – whether it's crafting a timeline or budget tracking- so you're able to set aside all worries and fully enjoy being engaged without sabotaging any of these special memories along way!
5 Wedding Planning Organization Tips
At Étage, our hands-on team is there to ensure that the wedding planning process remains stress-free and simple. Wedding planning organization can at times be a stressful and daunting task. Luckily, our professional and experienced team at Étage is there to keep you on track and take relieve some of the stress.
Stay organized while wedding planning with these 5 helpful wedding planning tips.
1. Create A Wedding Planning Timeline
A thorough timeline is required for organized wedding planning to guarantee that everything is on track leading up to the big day. Begin by deciding on a wedding date and booking a venue. After that, you can choose your wedding party and providers. During this time, you should also send out save-the-dates.
It's time to start thinking about your wedding dress and outfit about six months before the big day. Finalize arrangements with vendors and establish a seating plan as the wedding approaches. Check everything one to two months before the wedding to ensure you have everything you need.
Finally, the day before the wedding, have a rehearsal dinner, and on the big day, just relax and enjoy yourself. You'll be able to handle all of the aspects of your wedding, reduce stress, and ensure that everything runs well if you create an organized wedding planning timeline.
2. Use A Wedding Planning Binder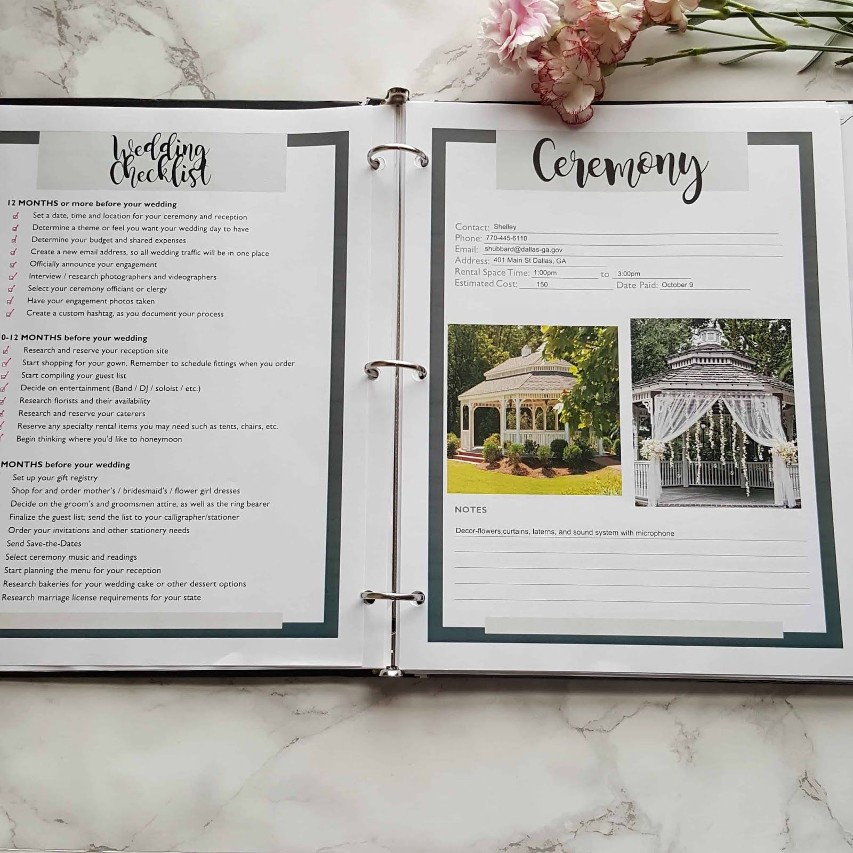 A wedding planning binder or application can be quite helpful in staying organized during the wedding planning process. Whether you use a real binder or digital software, the idea is to divide your wedding into sections or categories for venues, vendors, guest list, and budget. Use it to organize critical information, track deadlines, stay on budget, and bring it with you to appointments. Putting everything in one location can help to minimize stress and make the wedding planning process easier to manage.
3. Communicate Effectively With Everyone Involved
Communication is essential for organized wedding planning. It's critical to successfully communicate with your partner, family, and vendors to ensure that everyone is on the same page and that your wedding day is all you've imagined.
While communicating with your partner, make sure you're both on the same page about what you want on your wedding day. Make time to talk about your expectations and views, and be willing to compromise. Remember that this is a day for both of you, so collaborate to plan a wedding that reflects both of your personalities.
Family members can also play a crucial role in wedding organization and preparation, so it's critical to communicate properly with them. Make it obvious who is in charge of what tasks, and keep everyone up to date on any changes or revisions. Remember to be respectful of each other's viewpoints and to attempt to develop solutions that work for everyone.
Finally, communicating with vendors is critical to ensuring a seamless wedding day. Set expectations, clarify your budget and timeline upfront and don't be shy to ask questions or voice any worries! Maximize the chances of no surprises by getting everything in writing for extra reassurance that all goes according to plan on the big day.
When planning your special day, open dialogue is key. Connecting with your spouse, family members and vendors can help make sure everything falls into place for an unforgettable wedding experience! Clear communication will ensure that everyone understands their roles so you'll have the confidence to focus on enjoying every moment of the ceremony without a hitch.
4. Prioritize Correctly
Planning a wedding can be an overwhelming process, but if you focus your energy on the important tasks and divide duties accordingly, it'll all come together in no time! Start off by making a to-do list that prioritizes every task. Tackle the most pressing needs first—like reserving venues and vendors—and save those minor details for last. This way everyone involved will stay organized while keeping stress levels low!
Once you've determined your priorities, it's time to delegate duties. Don't be scared to seek assistance from friends and relatives. Give tasks to individuals who are eager and able to assist, such as choosing a music playlist or assisting with décor. This will relieve some of your stress and allow you to concentrate on other crucial areas of the wedding preparation process.
Make sure to speak effectively and provide all necessary information when distributing assignments. Establish expectations and timelines, and ensure that everyone understands their roles. Check in on a frequent basis to ensure that everything is running smoothly and that everyone is happy with their assigned tasks.
You may reduce stress and guarantee that everything is completed in a timely and effective manner by prioritizing and delegating duties. Remember to speak openly and frequently with everyone involved, and don't be afraid to seek assistance when necessary. You can plan and delegate your way to the wedding of your dreams without feeling overwhelmed or stressed out.
5. Establish A Budget & Track Expenses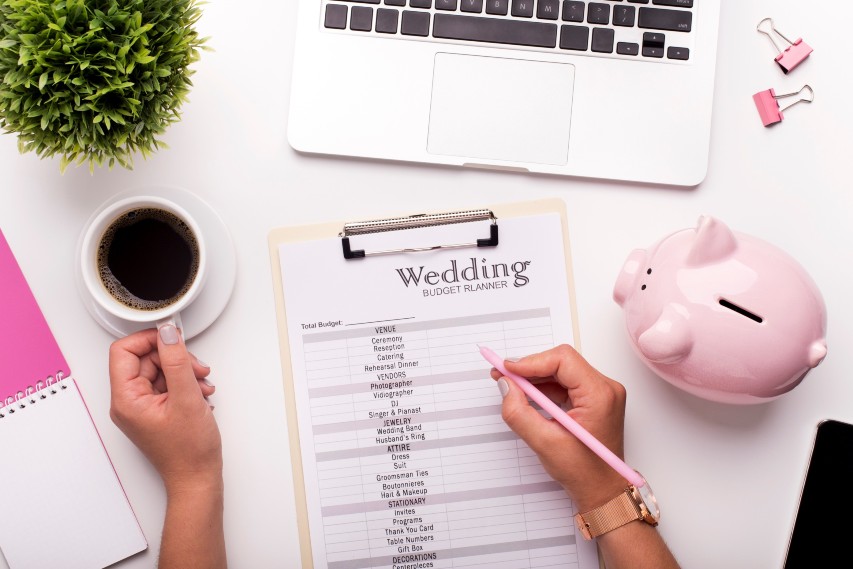 Creating a budget and keeping track of spending is an essential part of wedding planning. Begin by determining your entire budget and categorizing it, such as location, food, and décor. Assign a part of the budget to each category, leaving some room for unanticipated expenses.
Fortunately, our all-inclusive wedding venue has it all. Our elegant and sophisticated wedding venue has everything you need to stay within your budget, from cuisine to tableware to a wide range of amenities that are available to you.
Keep track of your costs and check in on a frequent basis to determine if you're remaining within your budget. If you see that you are overpaying in one category, try if you can cut back in another. Be realistic about your financial situation and don't be hesitant to make changes as needed.
Finally, keep all of your receipts and invoices organized. This will make tracking your costs and ensuring that everything is accounted for much easier. You may stay within your means and avoid financial stress during the wedding planning process by developing a budget and tracking spending.
Let Étage Assist You In Wedding Planning Organization
There are several strategies to keep organized during the wedding planning process, from developing a wedding planning timeline to successfully communicating with your partner, family, and vendors, to prioritizing correctly, to creating a budget and tracking spending.
Reduce stress and ensure that everything is completed in a timely and effective manner by following these tips and methods, allowing you to focus on enjoying your wedding day with your loved ones.
Now that you have all the information for wedding planning organization, let Étage host the wedding of your dreams. See what our glamorous venue has to offer by contacting us at 818-722-8490 or check price and availability today!